GUA SHA TOOLS
$32.00
Regular price
Unit price

/

per
Quantity selected exceeds current stock
Description
Gua Sha Tools
are a great addition to your skincare routine! Gua Sha consists of repeatedly gliding a tool over one's face or body repeatedly to create circulation and blood flow. 
A
lternative medicine practitioners frequently use crystals to aid in energetically healing the mind and body. 
Consistent use can help to:

relieve tight muscles

decrease puffiness

improve skin elasticity

invigorate circulation

tone facial muscles

brighten the appearance of your skin

increase product absorption

 
Amethyst
:
Metaphysically, Amethyst is thought to be a powerful crystal that promotes serenity and calm, while decreasing anxiety. T
hey are also believed to calm inflammation and help acne-prone
skin
.
Clear Quartz: Metaphysically, clear quartz is said to be the most versatile and powerful healing stone available. It is a master healer that stimulates the immune system, brings the body into balance, and amplifies energy. Quartz also have skin-calming properties. 
Black Obsidian
: 
Metaphysically, 
Black Obsidian Stone is good at cleansing and releasing energy blockages from the physical and energy bodies. It is grounding, and 
will also help to shield you against negativity
. Black Obsidian is thought to bring skin imbalances such as acne, psoriasis and eczema to the surface and releases them from the body. 
History: The origins of the face rolling lie in Chinese history and Traditional Chinese Medicine. Practitioners believe that gua sha releases stagnant energy within sore, tired, stiff or injured muscle areas to stimulate new oxygenated blood flow to the areas, thus promoting metabolic cell repair, regeneration, healing and recovery. 
Recommended for: All skin types. Use caution around areas or avoid completely, if you have any injections and/or fillers.
How to use
: What you need to start: Face Oil and Gua Sha Tool (toner optional). We recommend starting with a clean face and neck. Then prep your skin using 
Magic Detox Mist
 on face and neck. Add 1-2 pumps of
Lemon Clove Face Oil
 or
Sandalwood Face Oil
and press into face and neck...don't forget your eye area. 
Neck
- keep the tool flat against your skin and start at the side of your neck with slow, gentle, upward strokes. Repeat 3-5x. Then use downward strokes, 3-5x.  Repeat on the opposite side. Use caution around the throat.
Jawline-
start at the center of your chin and use medium to light pressured strokes toward your ear. Repeat 3-5x. Do the same on the opposite side.
Nasal area/cheeks- press gently with one finger, the inside corner of your eye area, with the other hand, use the tool to very gently massage the part of your cheek closest to your nose moving down your face. Repeat 3-5x. Then on the same side of your face, use gentle strokes starting in the center close to your nose, working your way out towards your hairline. Repeat 3-5x. To massage further, at the end of each stroke, wiggle the tool with medium pressure. Do the same for the opposite side of your face.
Eyes- press gently with one finger, the inside corner or your eye area. With the other hand, with featherlight pressure, use the tip of the tool to massage the brow bone starting from the inside corner of your eye closest to your nose, using outward strokes toward your hairline. Repeat 3-5x. Do the same for the under the eye area, using the most gentle, slow strokes. Do the other side as well.
Forehead- begin between the brows using upward strokes towards the hairline. Cover the entire forehead starting from above the browbone, using strokes towards the hairline. For any deep lines, go over them using an up/down zigzag over the lines from one end to the other end.
PRO TIP
- You can also leave
 your Gua Sha Tool in the freezer for extra de-puffing benefits! 
How to clean: Wash your Gua Sha T
ool with hot, soapy water. If that's not available, you can spray rubbing alcohol or an essential oil spray. 
 The tools can get very slippery. 

We highly recommend placing a towel in the sink while washing to absorb the shock and avoid breakage in the event it's dropped. 
*Due to the nature of stones, color and designs may vary.

*These statements have not been evaluated by the Food and Drug Administration. This product is not intended to diagnose, treat, cure, or prevent any disease.
Adding product to your cart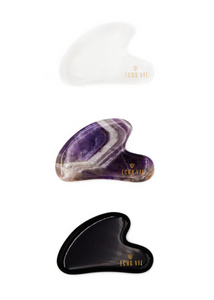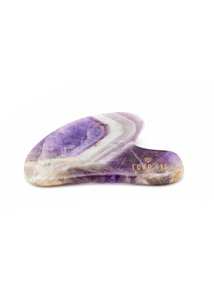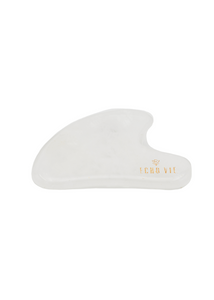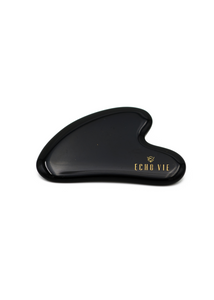 Recommended
You might want to take a closer look.